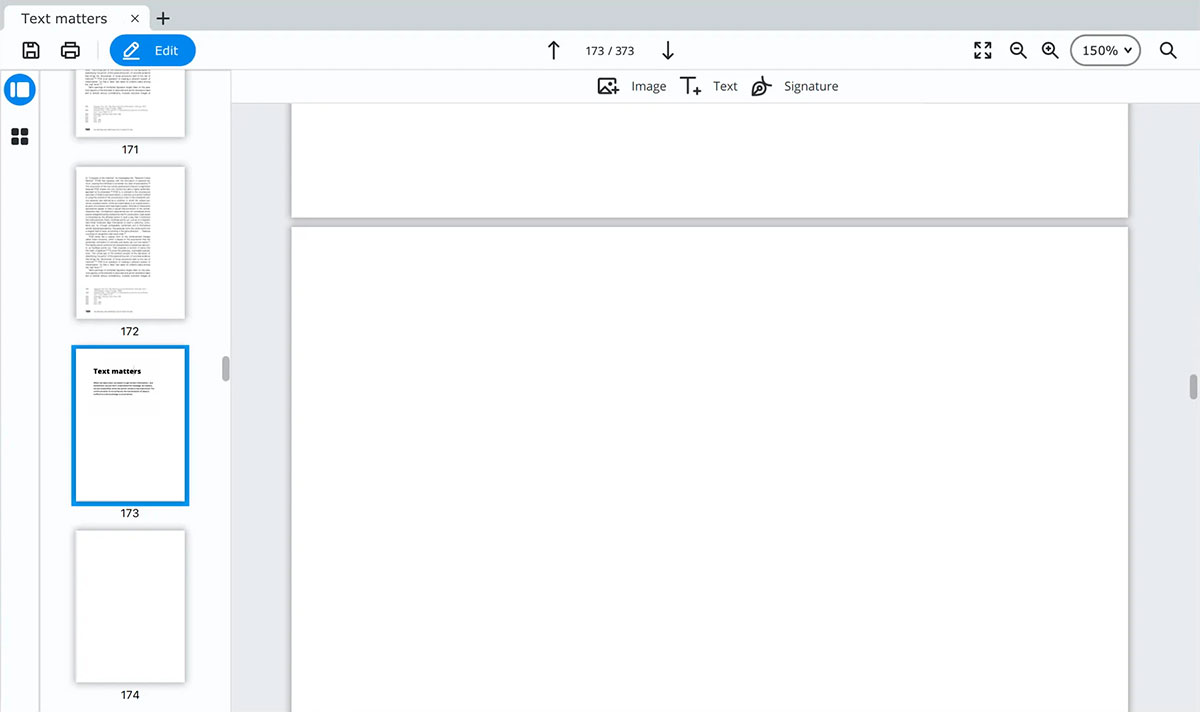 When we read a text, we expect to get certain information… but sometimes, we just don't understand the message. As readers, we are unsatisfied, while the author remains misunderstood. The communication is not achieved, the transmission of ideas is ineffective and knowledge is constrained.
New document workflow
Manage PDFs wherever you are – on your PC, Mac, iOS device, or in your browser. Store and access files in the cloud. Make teamwork more productive with shared access to documents and projects. With this major update, we've changed the document workflow.
Learn more        
A smart approach to working with PDFs
PDFChef lets you take care of routine PDF-related tasks without risking the security of your device. There's also a trial version available as a free download for you to check out all the functionality of the full version of our PDF-editing software.
Easily edit PDF content
PDFChef by Movavi is a multifunctional program to edit PDFs. You can add and edit text, insert and resize images. Our PDF editor also allows you to rearrange, delete, and rotate pages. Modify your PDFs in any way you want with PDFChef.
Manage your project documents
Store and easily access your files using the Movavi cloud storage. Combine files exported from different applications: Word, Excel, AutoCAD, Corel, and more. PDFChef will help you bring all the elements of your project together. Convert PDFs to and from HTML, EPUB, JPEG, TXT, and other file formats.
Sign and seal documents
Do you ever find you need to finalize a contract with a third party as soon as possible and you're nowhere near the office? Just add an image of your signature in PDFChef to seal the deal.
Prepare your best document
Everything you want from PDF-editing software
Read your favorite books, open and view research papers and other documents. Work with multiple files at once. Scale PDF pages to fit your monitor's resolution and personal preferences. Search for specific words or phrases with ease.
Create PDF files from scratch. Combine and merge files into a new single PDF document. The extensive set of tools in our PDF-creator will enable you to tailor documents to your exact needs.
Edit PDF files using different PDF program modes. Add, delete, rotate, and rearrange pages in PDF documents. Add and edit text within a document. Insert and resize any image, including logos, signatures, and stamps. Save changes in two clicks.
Convert PDFs to a number of other formats including HTML, TXT, Microsoft Word's DOC, and EPUB. Export individual document pages as JPG, PNG, and BMP images. Convert Microsoft Office and graphic files to PDF format.
What our community is saying
After I save my finished novel in book format, I then make a PDF copy. I always use your app when I do a sequel. I simply search for words and find characters and information I need to check and possibly change. I love PDFChef because I can find what I'm looking for instantly. I also use PDFChef for to-do lists, research, and in general ー pretty much everything.
Jennifer, writer
I use PDFChef every time I need to view PDF documents. It also helps me merge multiple files into one. It's so simple and convenient! Thank you, guys.
Ivan, IT сonsultant
In most cases, I use PDFs for work-related purposes. PDFChef has been a big help here. It lets me combine screenshots from different workshops into a single file, split documents, save separate pages, edit, convert, and export PDFs. It's important for me to have multifunctional PDF editing software like this on hand.
Andrey, advertising specialist
Convert to and from PDF
Convert to PDF
Convert from PDF
Documents and presentations:
Word, Excel, PowerPoint, text
PDF to Image (JPEG, PNG, BMP)
PDFChef by Movavi
Intel®, AMD®, or compatible processor, 1 GHz
Intel® HD Graphics 2000, NVIDIA® GeForce® series 8 and 8M, Quadro FX 4800, Quadro FX 5600, AMD Radeon™ R600, Mobility Radeon™ HD 4330, Mobility FirePro™ series, Radeon™ R5 M230 or higher graphics card with up-to-date drivers
1280 × 768 screen resolution, 32-bit color
2 GB RAM for Windows 7, Windows 8, and Windows 10
41.6 MB available disk space for installation package, 75 MB hard disk space for installation, 250 MB for ongoing operations