To edit a PDF file, follow these 4 steps:
Download and install PDFChef by Movavi.
Run the program and add the PDF you want to edit.
Choose the Text option and make the desired changes.
Open the File menu and select the Save option to save the modified document.
Now you know how to edit a PDF. Read the full guide to explore the topic in more detail.
By clicking the button, you're downloading the free version of PDFChef by Movavi.*
Edit PDF Text and Other Content with PDFChef by Movavi
PDFs are one of the most commonly used forms of files. They're used for communication, contracts, school assignments, presentations, and so many other things. Not only do PDF files provide an easy way to send documents with a clear understanding, but they work well when you need to collaborate on a project, sign an agreement, and much more. What's even better is that they're easier to modify than you'd think.
Over the years it's become a much easier process to add text to PDF files and directly edit the text in PDF files. PDF editors come with a variety of tools and features that allow you to make adjustments to text, images, and almost any part of a file. If you use the proper software, online or downloaded, then you can make almost any changes you need. Depending on the style of edits you need, one editor may be better than the other.
Programs such as PDFChef by Movavi allow you to edit your PDF files on Mac and on Windows 10 devices with ease. Whether you have a contract you need to be signed, see a few typos you'd like to correct, or have any number of reasons you need to edit a PDF, the software makes it an uncomplicated and extremely straightforward process. It's an uncomplicated solution, and a free option, that allows you to make all necessary edits to a PDF document.
How to Edit Text in a PDF Document
When you need to edit a text in a PDF document, the steps are pretty simple to follow. One quick way to make the edits you need is by downloading PDFChef by Movavi. This not only allows you to change text, but you can also alter the graphics on a PDF. The editor is free to use and makes managing PDF files simplistic and convenient.

You can add or edit text, resize, crop, and edit images, rearrange, delete, and rotate pages, among many other terrific editing features. The program allows you to export files from Word, Excel, AutoCAD, Corel, and more so that you can combine them as needed. You can also sign and share documents to make contracts and collaborations a breeze.

Step 1. Download the Software

Download the latest version of PDFChef from this page. Once the distribution file is downloaded, double-click it and follow the instructions on your screen.

Step 2. Import a PDF File

Launch the program, click Edit in the tools list, and select the PDF file that you wish to edit. The program automatically switches to the Edit mode.

Step 3. Edit Your Text

From the drop-down menu, choose the Text option. The software will highlight lines that you can edit text on so that they're easy to locate, and you can click on the ones you'd like to edit. In the right-hand panel, choose the font, point size, or style that you want to apply.
In addition to being a high-quality option when you need to edit PDF files, the built-in tools for the software truly make it worth your while. By removing things like the stress of a steep learning curve, providing access to make all necessary edits within one program, and making sharing easy, it's a tool that you can utilize and take everywhere.
How to Edit Other Content within a PDF
Step 1. Install PDFChef by Movavi

Download the program installation file, then run it and follow the installation instructions.

Step 2. Import Your PDF for Editing

Launch the application and click Edit in the tools list. In the dialog box that opens, select the PDF you want to edit and click Open. The PDF document will be opened in a new tab.

Step 3. Edit Images

The program will automatically highlight editable objects when you hover over them. Just select the desired image and start working with it. To resize the image in the document, drag any of the frame handles around the border. To remove or rotate the image, right-click to open the context menu.

Step 4. Save a PDF with a New Title

To save the PDF as a separate file, choose Save As from the File menu and type a new name for the modified file. If you don't need to save a copy, you can apply the changes to the current file using the Save option.
Other PDF Editing Tools
PDFChef is more than a text editing tool. It takes care of all your editing needs from one convenient program. You can combine files, insert signatures if you need a contract signed, delete unnecessary pages, or split your PDF into multiple files, and more. The editing software is one of the best free editors compared to paid Adobe software.
To make it even more clear what PDFChef can do, we've broken down the major editing tools so you can see how much of a benefit the software can be.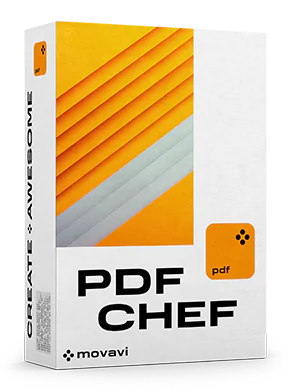 PDFChef by Movavi
Everything you need from PDF Software!
PDF creation from scratch

Different PDF-editing modes (4-in-1 page arrangement,
text editing, and object editing)

Electronic signature solutions

One-click file export and print output
Frequently Asked Questions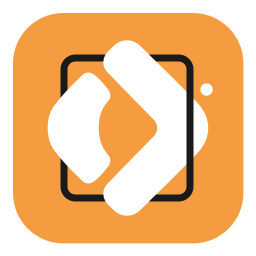 PDFChef
Related Articles
* The free version of PDFChef by Movavi has the following restrictions: 7-day trial period, watermark on the output PDF. Learn more