What Is an Affidavit: Definition
An affidavit (also known as a general affidavit) is a written statement of facts, sworn under an oath and signed before a notary public or another authorized officer. A standard affidavit form can be used as an evidence in a court of law.
Sample Affidavit Form in the PDF Format
Here is a structure and example for an affidavit form needed for the remote witnessing: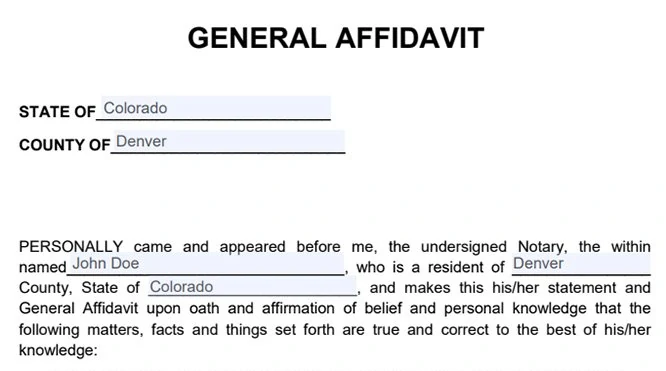 Disclaimer: The templates here are provided for reference only and you should always talk to a professional for all legal matters.
At the top of the general affidavit form, enter the name of the state and county.

In the main body of the form, you will be required to provide your personal information such as the full name and the state and county of residence.

In the blank space below, insert the statement that you swear to be true. The basic affidavit form statement can contain one or more sections.

After that, you should fill in the date that the statement is being made.

At the end of the form, you and a notary should sign the completed form to get your affidavit form notarized. Ask your notary public the exact date on which the notary public's commission expires to put it in the bottom left corner. Alternatively, you can leave the expiration date blank for the notary to complete.
Tips on How to Write an Affidavit
Determining Your Statement

Before drafting an affidavit, you first have to specify the facts that must be included in the document. There can be just one or a few facts stated in a numbered list. Unless you have been asked to prepare an affidavit paper as an expert witness, the statement should contain an outline of what you saw or heard, rather than opinions and rumors.

Choosing the Right Notary Public

Choosing a notary public is just like choosing any other professional consultant. You need not only someone to be familiar with the basic laws and regulations in your state or territory, but you also can reasonably expect from the notary considerate cooperation and understanding your individual circumstances. For example, don't choose the notary who is way too busy with other clients to avoid delayed and non-committal responses.

Creating an Affidavit Document

Download PDFChef with free printable form templates. Select the affidavit template. The information should include the name of the state and county, the affiant's full name, the sworn facts stated, and the signatures of the parties involved.
Was the article helpful?
* The free version of PDFChef by Movavi has the following restrictions: 7-day trial period, watermark on the output PDF. Learn more